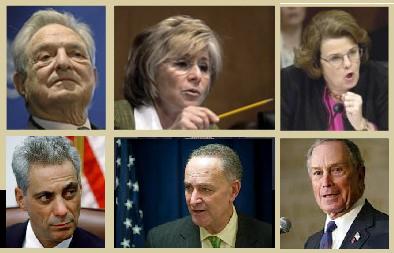 Jews for Civil Disarmament — Among the leading voices calling for gun control are (clockwise from upper left):

1) International finance tycoon George Soros;
2) Sen. Barbara Boxer (D-Calif.);
3) Sen. Diane Feinstein (D-Calif.);
4) New York City Mayor Michael Bloomberg;
5) Sen. Charles Schumder (D-N.Y.);
6) Chicago Mayor Rahm Emanuel.

WASHINGTON — A Jewish community strongly supportive of gun control plus Jewish lawmakers eager to enact new gun control laws may bring Jews into a lead role as the nation debates federal measures to rein in mass murders at its malls and schools.

The new openness to legislation and other measures following the slaughter of 26 elementary school children and school staff in Newtown, Connecticut — plus the killer's mother — is welcomed by most Jewish organizations, which have long supported gun control. But in recent years, with the prospects for progress on this front all but hopeless until the December murders at Sandy Hook Elementary School, those organizations have been largely passive on the issue.
Putting the Issue on the Front Burner

Now, activists are fighting to seize the moment and get gun control back on the front burner.

"There has been an ebb and flow of activism on this issue," said Dan Mariaschin, executive vice president of B'nai B'rith International, one of the groups calling for legislation to limit the sales of assault weapons. "It is an issue we as a community care deeply about, but it didn't find itself at the top of the agenda of Jewish groups."

In recent days, that latent passion has come alive. The Jewish Council for Public Affairs has called on members to sign a petition advocating "meaningful legislation" to limit access to assault weapons. The Religious Action Center of Reform Judaism began reaching out to other Jewish movements and to non-Jewish faith groups in an attempt to create an interfaith coalition to back the drive for gun control.

Introducing Anti-Gun Legislation

"This can be a model for Congress on how people can work together at times like this," said Rachel Laser, the RAC's deputy director. "I think the faith community can play a central role in getting the ball across the line."

On Capitol Hill, the effort to introduce legislation limiting access to weapons has been led by several Jewish lawmakers, all Democrats (though one now uses the Independent label). California Senator Dianne Feinstein, a longtime leader on the issue, intends to introduce legislation for renewing the ban on the sale and possession of assault weapons, which expired in 2004.

Other Jewish Lawmakers Join In

New York Senator Charles Schumer, another leading gun control advocate, has called for legislation that would increase background checks. Senator Frank Lautenberg of New Jersey announced his plan to reintroduce legislation banning the sale of high-capacity magazines. The two Jewish senators from Connecticut, Richard Blumenthal and independent Joseph Lieberman, also stood at the forefront of calls for gun control following the tragedy that hit their state.
But perhaps the most prominent voice on the issue has been that of New York City Mayor Michael Bloomberg, who has been urging President Obama, ever since the December 14 shooting, to make gun control his top priority. During the 2012 election cycle, Bloomberg also funded a super PAC targeting pro-gun candidates.

Peculiar Sense of Jewish Security

One reason for broad Jewish support of gun control, Mariaschin said, has to do with the community's sense of security, "which perhaps leads us to feel that the possession of assault weapons is completely unneeded."

Rabbi Eric Yoffie, former head of the Reform movement, listed in a recent Haaretz article several reasons for Jews siding with supporters of gun control: the community's affiliation with the Democratic Party; the fact that Jews are urban people and detached from the culture of hunting or gun ownership, and suspicion toward the NRA, which is "associated in the minds of many Jews with extremist positions that frighten Jews and from which they instinctively recoil."

Related:

Rabbi calls for ban on all private weapons: weapons/news/category/Jewry

Bloomberg to Obama: Gun control should be 'no. 1 agenda': http://thehill.com/blogs/blog-briefing-room/news/273119-bloomberg-to-obama-gun-control-should-be-number-one-agenda
Senator Feinstein set to push for assault weapons ban:
http://theneworder.org/news/2012/11/senator-feinstein-set-to-push-for-assault-weapons-ban/

Jews lead Gun Control Charge

Organized Jews Are the Driving Force Behind Gun Control
"Americans, Never Give Up Your Arms"
28.12.2012
By Stanislav Mishin

These days, there are few few things to admire about the socialist, bankrupt and culturally degenerating USA, but at least so far, one thing remains: the right to [bear] arms and use deadly force to defend one's self and possessions.
This will probably come as a total shock to most of my Western readers, but at one point, Russia was one of the most heavily armed societies on earth. This was, of course, when we were free under the Tsar. Weapons, from swords and spears to pistols, rifles and shotguns were everywhere, common items. People carried them concealed, they carried them holstered. Fighting knives were a prominent part of many traditional attires and those little tubes criss crossing on the costumes of Cossacks and various Caucasian peoples? Well those are bullet holders for rifles.
Various armies, such as the Poles, during the Смута (Times of Troubles), or Napoleon, or the Germans even as the Tsarist state collapsed under the weight of WW1 and Wall Street monies, found that holding Russian lands was much much harder than taking them and taking was no easy walk in the park but a blood bath all its own. In holding, one faced an extremely well armed and aggressive population Hell bent on exterminating or driving out the aggressor.
This well armed population was what allowed the various White factions to rise up, no matter how disorganized politically and militarily they were in 1918 and wage a savage civil war against the Reds. It should be noted that many of these armies were armed peasants, villagers, farmers and merchants, protecting their own. If it had not been for Washington's clandestine support of and for the Reds, history would have gone quite differently.
Moscow fell, for example, not from a lack of weapons to defend it, but from the lie-ing guile of the Reds. Ten thousand Reds took Moscow and were opposed only by some few hundreds of officer cadets and their instructors. Even then the battle was fierce and losses high. However, in the city alone, at that time, lived over 30,000 military officers (both active and retired), all with their own issued weapons and ammunition, plus tens of thousands of other citizens who were armed. The Soviets promised to leave them all alone if they did not intervene. They did not and for that were asked afterwards to come register themselves and their weapons: where they were promptly shot.
Of course being savages, murderers and liars does not mean being stupid and the Reds learned from their Civil War experience. One of the first things they did was to disarm the population. From that point, mass repression, mass arrests, mass deportations, mass murder, mass starvation were all a safe game for the powers that were. The worst they had to fear was a pitchfork in the guts or a knife in the back or the occasional hunting rifle. Not much for soldiers.
To this day, with the Soviet Union now dead 21 years, with a whole generation born and raised to adulthood without the SU, we are still denied our basic and traditional rights to self defense. Why? We are told that everyone would just start shooting each other and crime would be everywhere....but criminals are still armed and still murdering and to often, especially in the far regions, those criminals wear the uniforms of the police. The fact that everyone would start shooting is also laughable when statistics are examined.
While President Putin pushes through reforms, the local authorities, especially in our vast hinterland, do not feel they need to act like they work for the people. They do as they please, a tyrannical class who knows they have absolutely nothing to fear from a relatively unarmed population. This in turn breeds not respect but absolute contempt and often enough, criminal abuse.
For those of us fighting for our traditional rights, the US 2nd Amendment is a rare light in an ever darkening room. Governments will use the excuse of trying to protect the people from maniacs and crime, but are in reality, it is the bureaucrats protecting their power and position. In all cases where guns are banned, gun crime continues and often increases. As for maniacs, be it nuts with cars (NYC, Chapel Hill NC), swords (Japan), knives (China) or home made bombs (everywhere), insane people strike. They throw acid (Pakistan, UK), they throw fire bombs (France), they attack. What is worse, is, that the best way to stop a maniac is not psychology or jail or "talking to them", it is a bullet in the head, that is why they are a maniac, because they are incapable of living in reality or stopping themselves.
The excuse that people will start shooting each other is also plain and silly. So it is our politicians saying that our society is full of incapable adolescents who can never be trusted? Then, please explain how we can trust them or the police, who themselves grew up and came from the same culture?
No it is about power and a total power over the people. There is a lot of desire to bad mouth the Tsar, particularly by the Communists, who claim he was a tyrant, and yet under him we were armed and under the progressives disarmed. Do not be fooled by a belief that progressives, leftists hate guns. Oh, no, they do not. What they hate is guns in the hands of those who are not marching in lock step of their ideology. They hate guns in the hands of those who think for themselves and do not obey without question. They hate guns in those whom they have slated for a barrel to the back of the ear.
So, do not fall for the false promises and do not extinguish the light that is left to allow humanity a measure of self respect.
Stanislav Mishin

Article here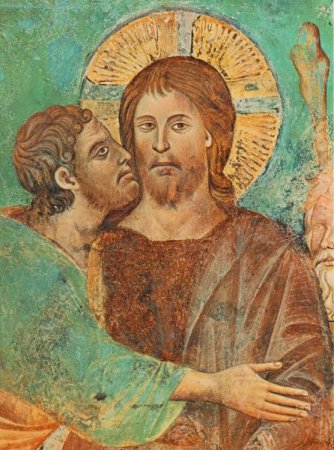 Christian "Zionists"

Muslim "Leaders"

The Truth Is—
The Other Half of Love and Light is Protection of It:

"Firearms are second only to the Constitution in importance;
they are the peoples' liberty's teeth" – George Washington